If only one selection wins, as a consolation returns are paid to double the odds. If all four selections win, a bonus of 10% is added to total returns. For the bonus to apply, all selections must win (none void or non-runners).
All selections will be for a 1pt Lucky 15 unless otherwise stated.
A 1pt Lucky 15 equals a 15 pt total stake on the selections. So a 1€ stake on a Lucky 15 equates to a total stake of 15€
You will receive a minimum of 1 Lucky 15 selection for any given day, however a NO BET TODAY may be advised if we feel there are no selections strong enough, but this will be rare. Also note that there may on occasions be the odd Lucky 31 bet where we add an additional horse for a potential jackpot!
View Examples
Lucky 15 4 Games 15 columns x 1 €. Stake 15 € Maximum return 1404.59 €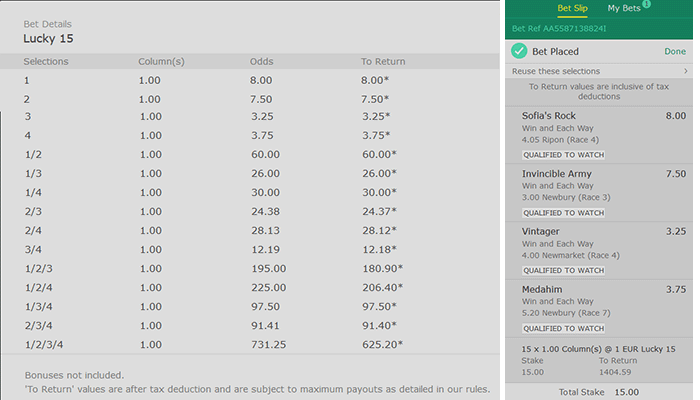 Lucky 31 5 Games 31 columns x 1 €. Stake 31 € Maximum return 12.844,55 €